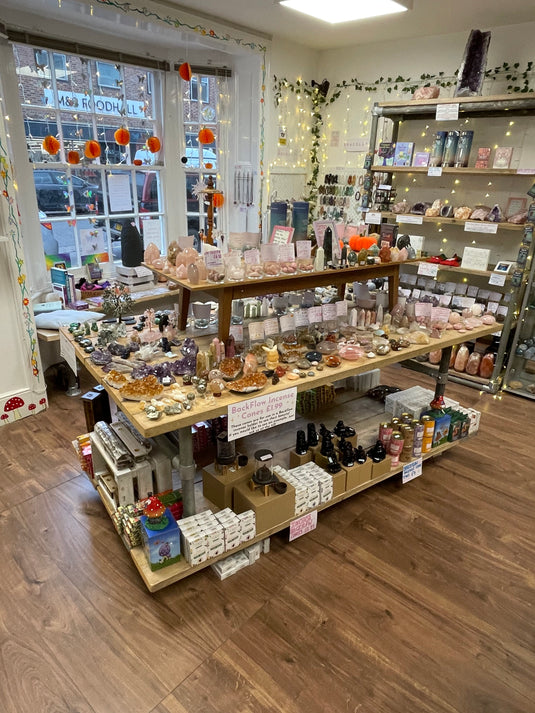 HOW KESHET CRYSTALS CAME TO FRUITION
Our Story
I have always had a love for learning about spirituality. So much so that I began living by the moon, meditating with crystals and doing shadow work. Spirituality has given me so much, and I truly believe in the science behind crystals and their properties. I do not know where I would be without crystals in my life!
Beginnings
I began, in May 2021, to make crystal necklaces and rings for myself. My friends and family members would subsequently see them, and as I got better at making them, everyone around me was asking for a crystal necklace! I then got the idea of creating a crystal jewellery shop on Etsy, and from there the idea of a brick and mortar shop blossomed.
The Shop
I adore crystal shops, I could spend hours in one reading about different crystal properties and which beautiful stones call to me. So I thought, why not create a place where it will be socially acceptable for me (and of course, you!) to spend 8 hours a day in? 
About our vision, mission and values.
My true vision for Keshet Crystals is this; a shop (and website) where you feel completely welcomed and accepted, whether you are a fully-fledged crystal believer far on your spiritual journey, or if you have just started asking questions about crystal properties! Everyone is welcomed with love and kindness here.
Crystals are obtained from all around the world, and the mining process can be extremely unregulated. Our
Ethical Policy
ensures you can purchase crystals knowing that their journey from the mines to the shelf has been as fair and as safe as possible.
Click here to read more!
We view crystals as incredible gifts from Mother Earth. This means that they should be treated with care, respect and love, starting at the moment they are extracted from the ground.
You can read more about Our Values Here.
My true vision for Keshet Crystals, has and always will be this; a place where you can feel welcomed, no matter where you are on your spiritual journey.

At Keshet Crystals we also try to bring our magic online, and lovingly choose our crystals for our website. We pack your beautiful orders with intuition and care.
You can read more about Our Vision Here.
Meet the Team
Keshet Crystal's Queen's
Tivka Ruby
Creator & Manager of Keshet Crystals
Poppy Cole
Chief Blogger - Crystal Queen
Jessica Trillaurd
Crystal Queen
Lucie Trillaurd
Part-Time Crystal Queen
Flora Palmer
Part-Time Crystal Queen
Eusef Nakhai
Web Developer & Marketing
What our valuable customer are saying
"Best crystal shop by far in the area"
"Absolutely lovely crystal shop. Fantastic selection of high quality crystals at a good price. Lovely owner who is very helpful and more than willing to answer any questions."
"The most amazing shop with such a great atmosphere!"
I've been in multiple times and have found great items to purchase as gifts as well as many I've bought for myself. There is a wide selection of metaphysical items for sale, and the shop has such a welcoming and happy feel when you come in.
"There is a wonderful selection to chose from and help and advice is always on hand."
I was thrilled to find a crystal shop in my town and once inside it didn't disappoint one little bit! The owner is such a beautiful, welcoming soul and I feel myself drawn back time and again.
Read more on Google! Please consider leaving a review ! It really helps